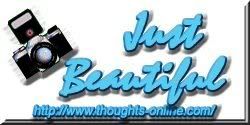 Another beautiful Wednesday to everybody!
Here's my entry for this week's just beautiful ...

Not myself again....we already knew that right so I don't have to say it, LOL. Just kidding. I am sharing the house in the picture. Those houses up there were really beautiful! It's my second time to come by this area and I kept on looking on those very eye catching view to me so I asked husband to take a picture of me with that background. Isn't nice? Wonderful right? Just wondering how to live up there? I wish to have a house like that someday like I am a queen living up in a castle, just beautiful!