Did you know that aside from Ishi and Ethan, husband has another baby? I can't believe it too! It's just 8 months that were apart and he already have a new baby? And I'm proud of him! Meet my husband's baby - ANDY!
ANDY is a black Mitsubishi outlander sports, she turned one month last 25th of April!

Daddy and his baby Andy @ the Parking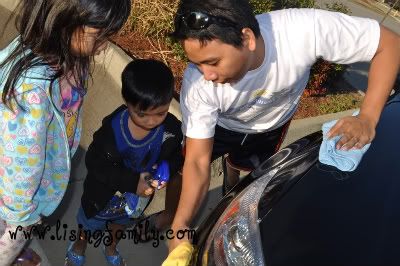 my kids helping their daddy clean up their new baby sister!
My husband is a very hardworking man and very enthusiastic one. When he sets a goal, he will surely have it in time. Aside from being 'kuripot' (thrifty), he really know how to handle his income. He knows his priorities and he knows when to spend money. I admire him for being like that though sometimes I am irritated. But anyways, an attitude of his like that is a good thing. If his not like that most probably we don't have any investments right now like our condo unit. Now he has his dream car already, and I will not be surprise if we have our own house and lot next year! Don't you think so? I'm sure we will, look at ANDY, daddy had her after saving in a few months and even got ANDY a
CT car insurance
. I wish Andy will stick to us for many years!